Experience the Difference
Upper Room Candles
Our candles burn strong, burn long, and burn clean.
We prioritize quality and safety above all else, using materials and ingredients that are ethically-sourced and cruelty-free.
Every Upper Room candle is a result of our dedication and commitment to handcrafting a premium fragrance experience.
PRODUCTION STUDIO & SHOWROOM
Visit our 3,000 sq ft production studio and showroom where you can smell all the smells, meet the makers, and enjoy a Fragrance Experience to create your own custom blended scent.
SHOWROOM HOURS: M-F 10am-4pm*
*From Sept.-Dec., we offer some extended and weekend hours, as well as closures for community events. Call for the latest showroom times.
100 E. Nasa Parkway, Ste. 301, Webster, TX 77598
Showroom contact, Shannon Wilpitz: 832-228-5437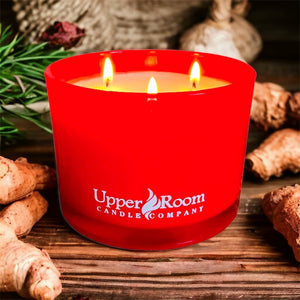 Testimonials
Love that I found these candles. They burn clean and smell great. My guests walk in my home saying what is that smell, it's so good.

Shawna M.
Because of my various allergies, I very seldom burned any brand of candle in my home. Finally, with the Upper Room Candles I have zero adverse reactions. I have one candle burning in my master suite and one burning in my family room. No allergy triggers!

Sharon K.
I am a pretty solid candle burner, and of all I've used, these top them all! It's wonderful to be able to fill up your room or home with the amazing aroma from one candle and it still not be overpowering!

Wyvette M.
My candles burn clean and long. Yuletide Fireside is burning right now, and the whole living room is cozy and smells great. We are remodeling, and as the various folks walk in the house, they all stop and inhale and remark how good it smells! Our order also came quickly and well packaged.

Shaun A.
I loved my experience ordering from Upper Room. The candles are amazing!!!!

Vicki S.
Upper Room candles are the real deal! I am a very picky candle buyer and I'm not crazy about super strong scents. These candles had me hooked from the start! They are just enough scent to make the room smell AMAZING, but it's not an overwhelming strong scent. It's PERFECT!

Lexi L.
I LOVE this family owned and operated candle company! The candles don't burn too quickly, and leave my home smelling AMAZING. I haven't found a scent that I don't love! I love that I can burn one of their candles in my kitchen, and it permeates other rooms in my house, without it being overwhelming.

Lauren B.
These candles burn so clean!

Cecilia H.
Upper Room Candles are wonderful!!! We have bought three. And have been happy with every purchase. They all have a very unique, wonderful smell.

Misty M.